Sutur video
13.06.2017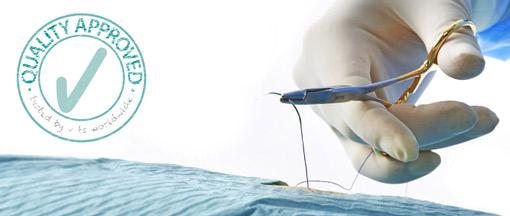 KRUUSE Sutures
KRUUSE Sutures - new and improved quality
KRUUSE is proud to present our new and improved assortment of hight quality sutures. The suture materials have been tested by veterinarians both nationally and internationally. As we work with a new supplier is has been very important to us to have a large test material and the approval of the veterinarians as end users.
Read more about the suture products in the menu to the right.
• The new wide range of KRUUSE sutures have been defined with help from veterinarians worldwide – a good example of teamwork
• New supplier
• New improved suture material
• New improved quality of the important welding between needle and suture
• Tested and approved by veterinarians worldwide
Click here for access to KRUUSE Suture catalogue.
Our clients can still get the suture material in cassettes.
We have the following range of cassettes ready for you:
Display for cassettes
Also for your cassettes you can get a hygienic display in stainless steel for five cassettes.
The display has four rubber feet and thus makes the suture work with cassettes more easy.
On the end labels on the boxes you will find user-friendly descriptions. Watch here ->
Peel pack boxes with number of sutures convenient for all!
All sutures are packed individually in sterile peel packs in boxes of 18 – this quantity allows the clinics to have a wider suture range.
Display for the suture boxes
Transparent or white; hygienic and practical display with a nice design for 12 suture boxes. The display can be used either as a table top rack or it can be wall mounted. You can also add another display section if you need more than 12 sutures.
Range of peel packs
Sutur types in peel packs for different application areas: